How to check wheel run out. Tools used and tips.
I use a stand, granite base and dial indicator.
I have a couple of different kinds of dial indicators, and a digital one.
Not all are created equal or have good quality.
I always recommend one, with .001 or less read out. (.0005).
Vee Blocks. You need a good set of Vee Blocks.
here is a picture of mine.
Mine have too big of a v gap. Allowing the pin gages to move around and slide to much. Giving false readings.
So I used some wood to pinch and fill the gap. So my pin gages will not move, slide or shift around.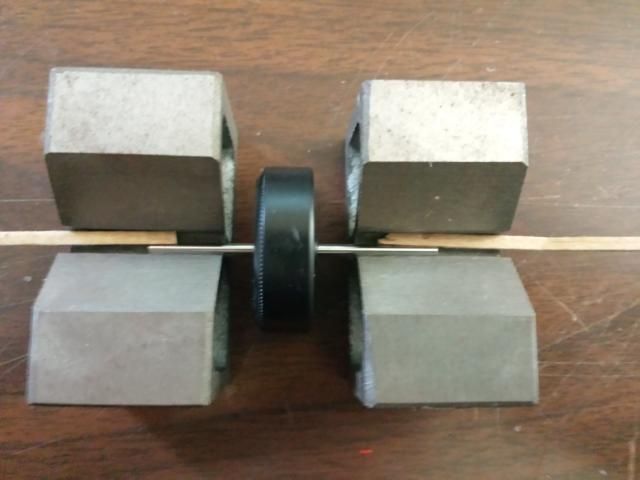 the dial indicator needs to be level, and strait for this type of test / check.
I used a carpenters square to make sure I was true.
See below-
You also have to make sure that the dial indicator shaft goes below the wheel. about 1/4 of a inch works just fine. Most dial indicators are spring loaded and need some tension to read right. So you don't want it fully extended on the wheel.
You also want the dial indicator to be top dead center of the wheel and inline with the pin gage.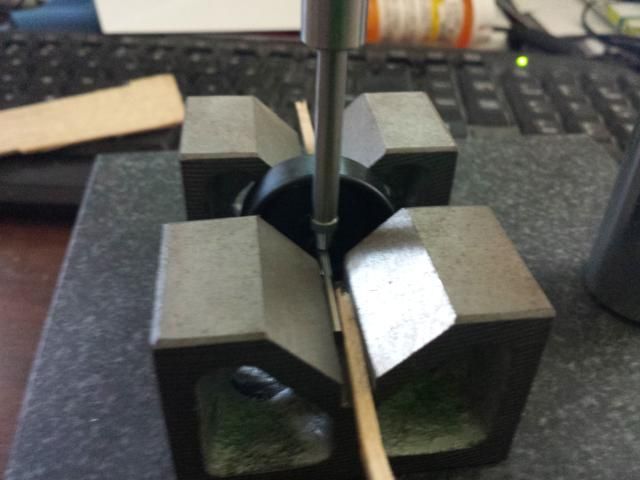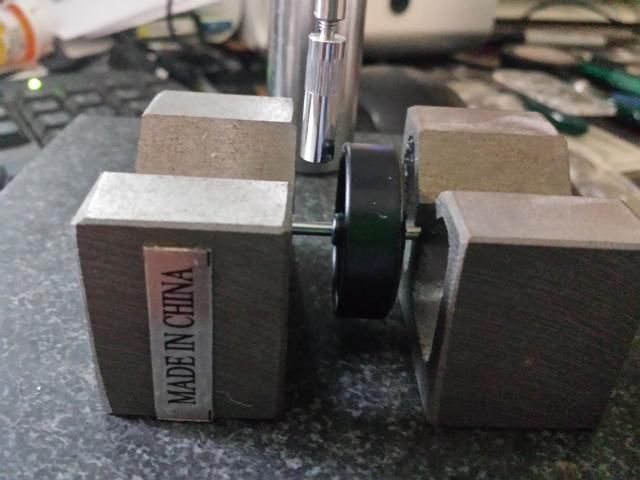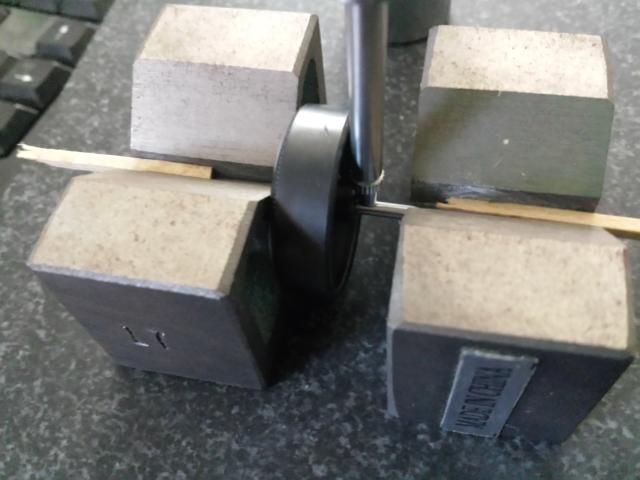 You want to reset the dial indicator to zero or turn to (0) once you have placed it on too the center of the wheel and top dead center of the wheel.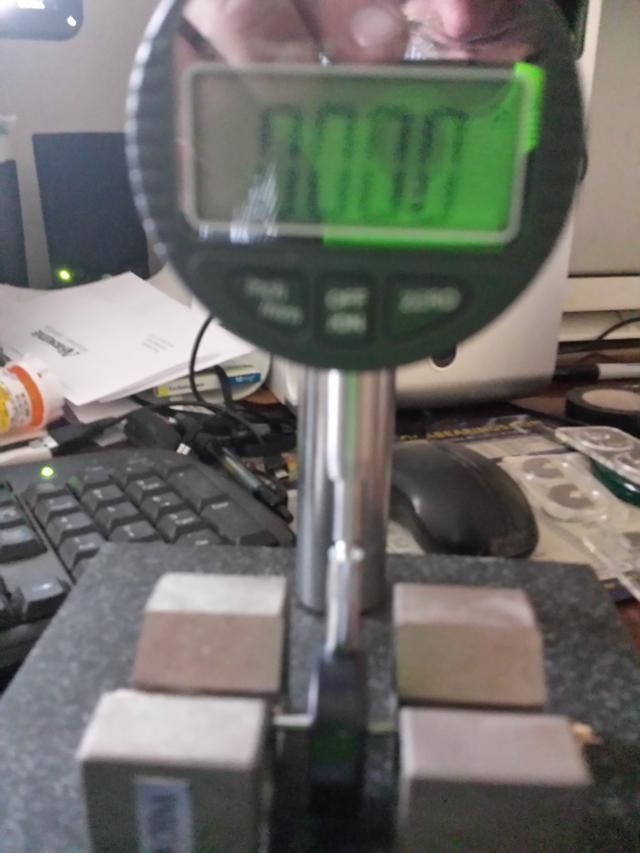 It's very important.. To use a drill bit or pin gage, that is the same size as the bore !
Or you will have slop and get inaccurate readings.
That's why I have a range or Vermont gage pins. because the wheels tend to have differences in bore size. Not to mention some are small and some have bigger wheel bores.
Which works to check bore size and discard wheels that have bad or very large bore sizes.
I try and find wheels that have good run out and the smallest size wheel bores. I try and find 5, sets of 5 and mark and keep separate.
Why not sets of 4 ? well, If I make a mistake or ruin a wheel. I have a spare.
Here---
It a picture of a stock bsa wheel. .0035 run out. (yikes)..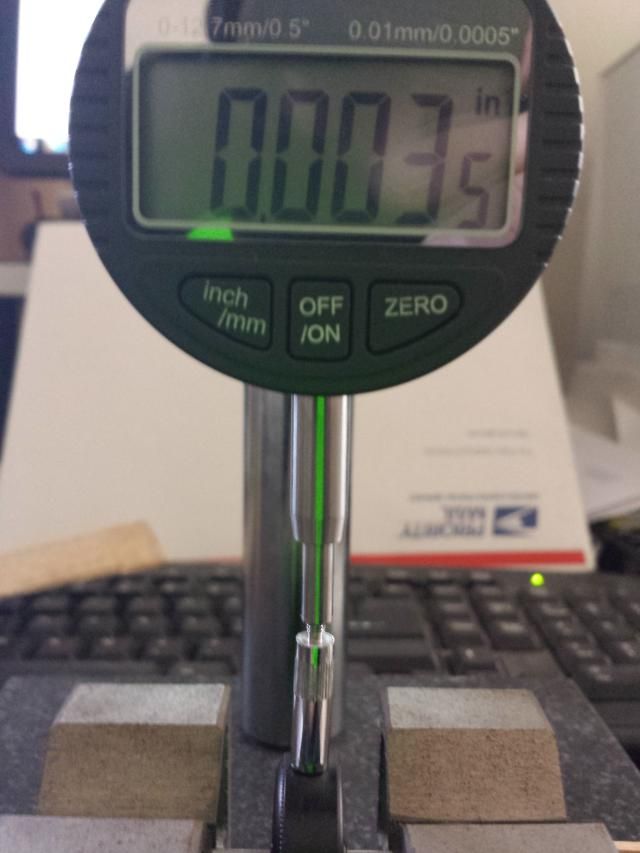 Here is a picture of a wheel gotten from a seller of worked wheels.
.0005 run out. Pretty darn good.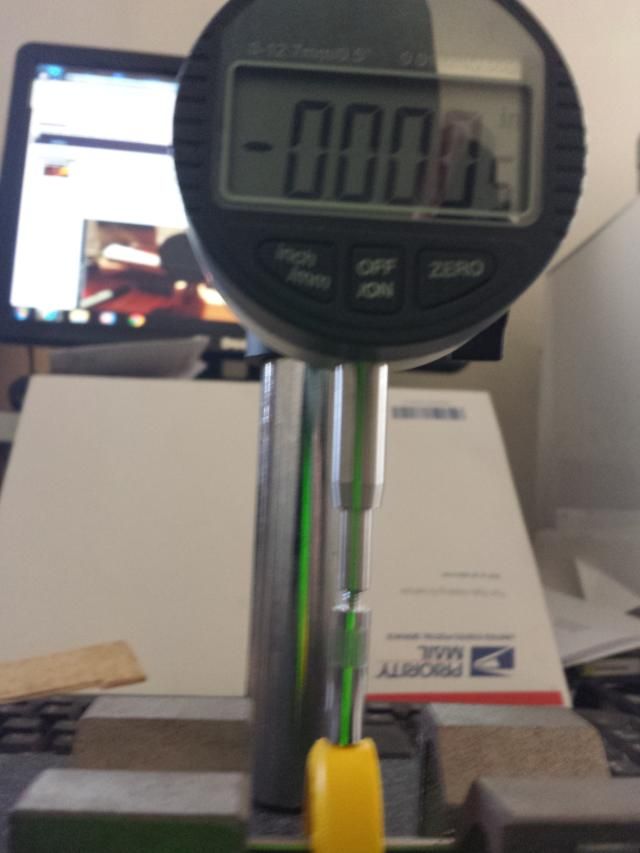 I like the digital dial indicator better, it will give me the max run out, difference. The dial indicator ones, can move from + or - minus zero and it takes a few times to account for the total run out.
My digital one, does not do this and will give and show the max run out. and it flashes/ blinks the number. Once I stop turning the wheel.
The final tip, is it does take a bit of practice to turn that wheel with your finger and not slide or move it or push the vee blocks out of top dead center.
when that happens, if you get it off top dead center or out of alignment with the pin gage. Your readings will not be as accurate.
I do not attempt to use any wheels with .001 run out or greater for high end racing. That's just me.
When I did my own wheels or if I buy. I will either ask for a refund, and send them back or give them away. to someone who has no option and provides a improvement over what they have.
Sometimes I find stock bsa wheels with .002, which is what I usually find in the range of .002 to .0025.
The biggest advise I could share, Is, If you are buying $30 to $40 dollar wheels for high end racing. Don't pay for work, that has run out over .002.
Please keep in mind, that ultralight wheels or 1 gram and under, may flex during this test and may not read right.
Sporty