I like to do one Pinewood Derby project each year during the off seaon. This year I was planning on making a new three lane PVC Pinewood Derby Track, but was distracted when our Pack's charter organization came to us and asked if we could run an event at their annual "Back to School Fun Day" in August. The "Back to School Fun Day" is the church's annual community outreach event where they bring in large bounce house equipment and setup a carnival/fair atmosphere, with live music, local business/baseball team mascots, medivac helicopters, fair games, firetrucks, and just about anything to make the event exciting for kids. The event is completely free to the community and every elementary school kid receives a free backback and free school supplies. They also give away free food and drink, and even have used free clothing that the parents wind up going through while the kids are running about having fun. It's the church's way of helping families defer some of the costs of getting their kids ready for "Back to School" each year. This year the event had over 300 elementary school kids attend.
Anyways, the event coordinator says to me "Can you do some sort of event with those little cars you all make?" Hmmm, obviously he doesn't really understand our process of Pinewood Derby, but I told him the Pack would do something for them; after all, its a good place to do recruitment at and it can count as a service project as well (not to mention it exposes a lot of people to Pinewood Derby).
So I sat down with my Pack Committee and started brainstorming on how we can involve Pinewood Derby in this annual event. The event is three hours long, so we'd probably do multiple races. The thought was to make the cars in advance and have the kids pick which car they would like to race and then let the top three winners keep their cars as a prize. If we had 15 to 20 cars in each race, we could probably finish three races in the 3 hour time period (giving away 9 cars total). We would also give every racer a free Pinewood Derby patch as well, as this was an easy inexpensive partisipation prize. Then I started to become concerned, as I make some very fast cars, and was afraid that these cars would wind up in other Pack races, or at our District Race next year. Someone suggested that we could put sticker labels on the bottoms of the winning cars, stating where the car ran, on what date, and what place it took (sort of a history to go along with the car). This would allow other race officals to decide if the car was legal by their standards. I liked the history idea, but felt stickers can be easily removed. That's when the idea hit us, "How about a Pinewood Demolition Derby?"
We already had a track we use at districts for this, and we didn't have to put as much time into building the cars (but still try to make them look good). Also we didn't have to worry about making the cars ultra fast and could use templates that look like real cars, rather than thin flat boards that most of us usually make. Cars could be front weighted so anyone trying to put them in other Pinewood Derby races, wouldn't stand much of a chance of winning. We could still put a history label on the bottom of the winning cars, so people would understand that this car came from a Demolition Derby.
So, six weeks later we finish fifteen cars. They were made from various templates (some which you might recognize). Some stickers were used to make the cars look nice.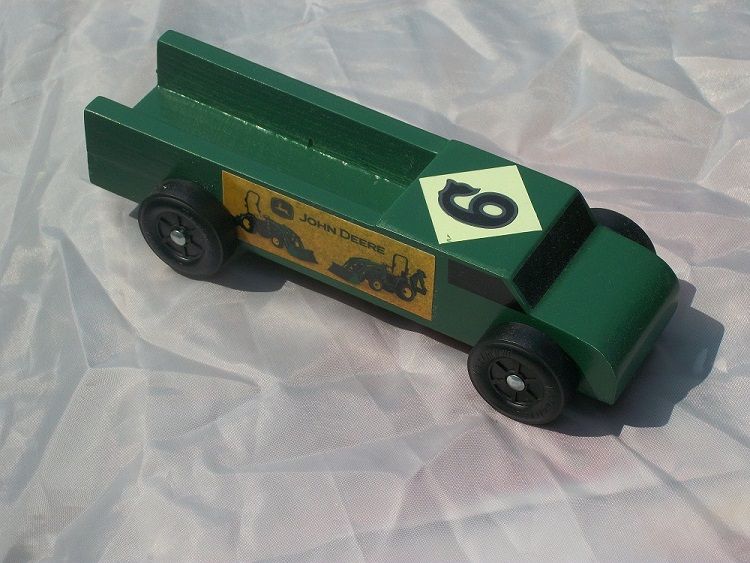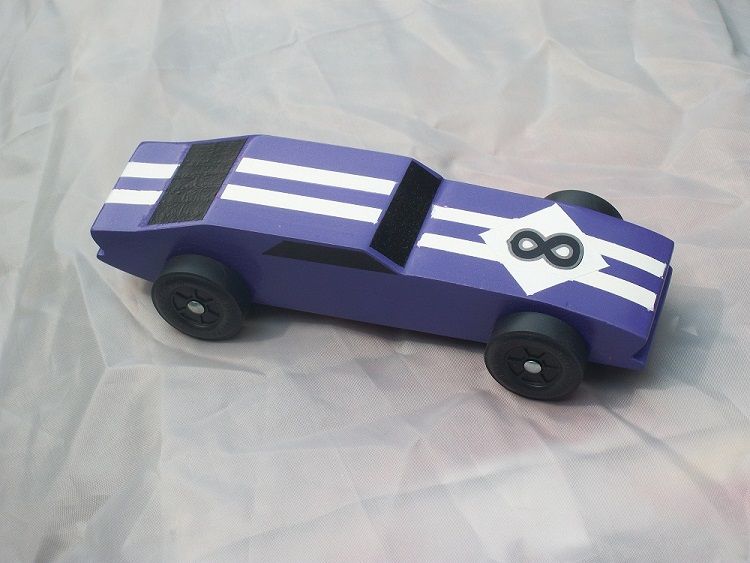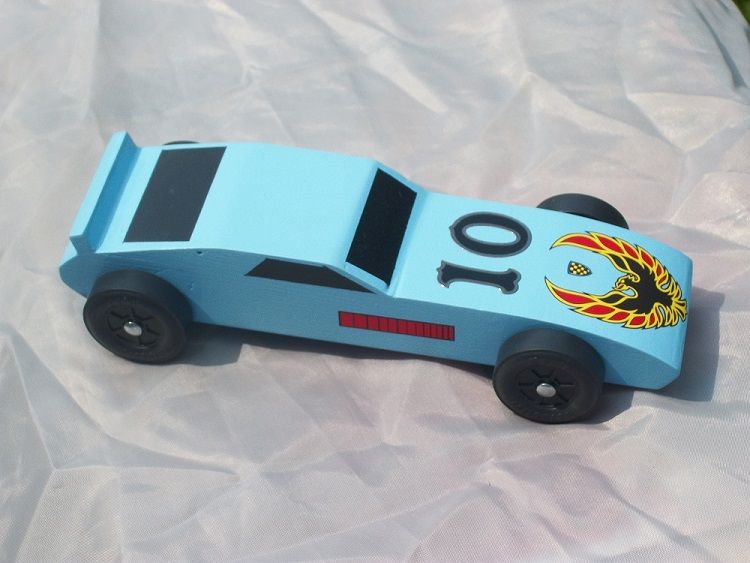 It took about 15 minutes to get enough interest for kids to sign up. The first race ran with 15 cars, the second with 12 and the third with 9. We finished 10 minutes before the event ended, so our timing was perfect. Kids lined up to sign-up for the next race as each previous race ended. Unfortunately we were so busy we didn't get any video shot of the actual races (really wanted to post some of that to YouTube, oh well, maybe next year). I did get my son to take some pictures of the track after he set it up.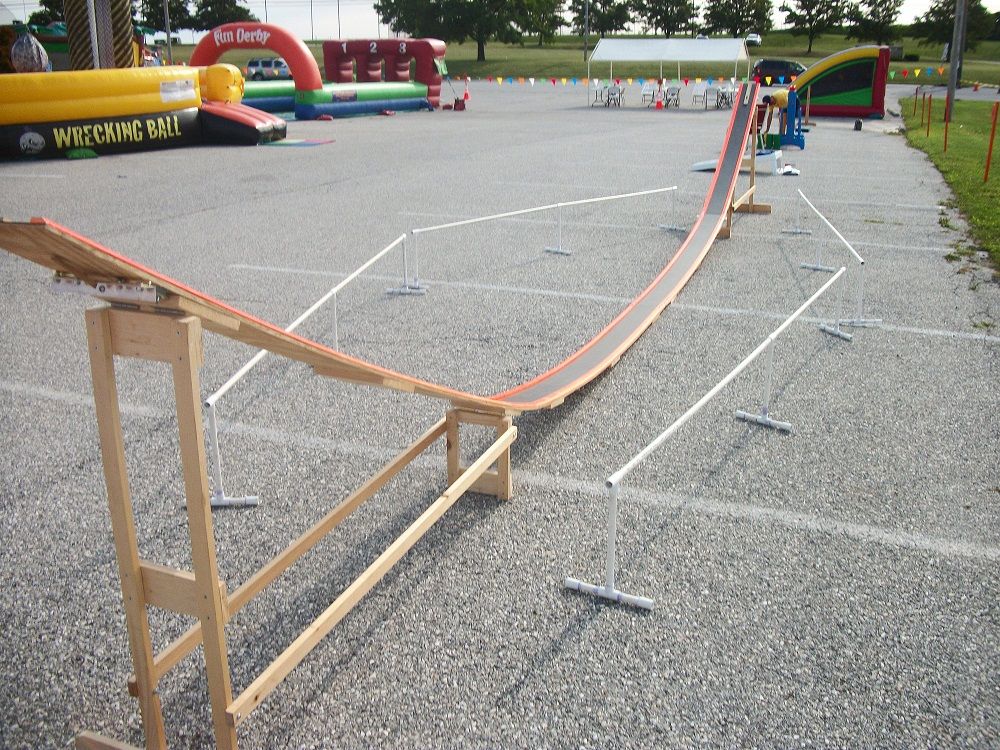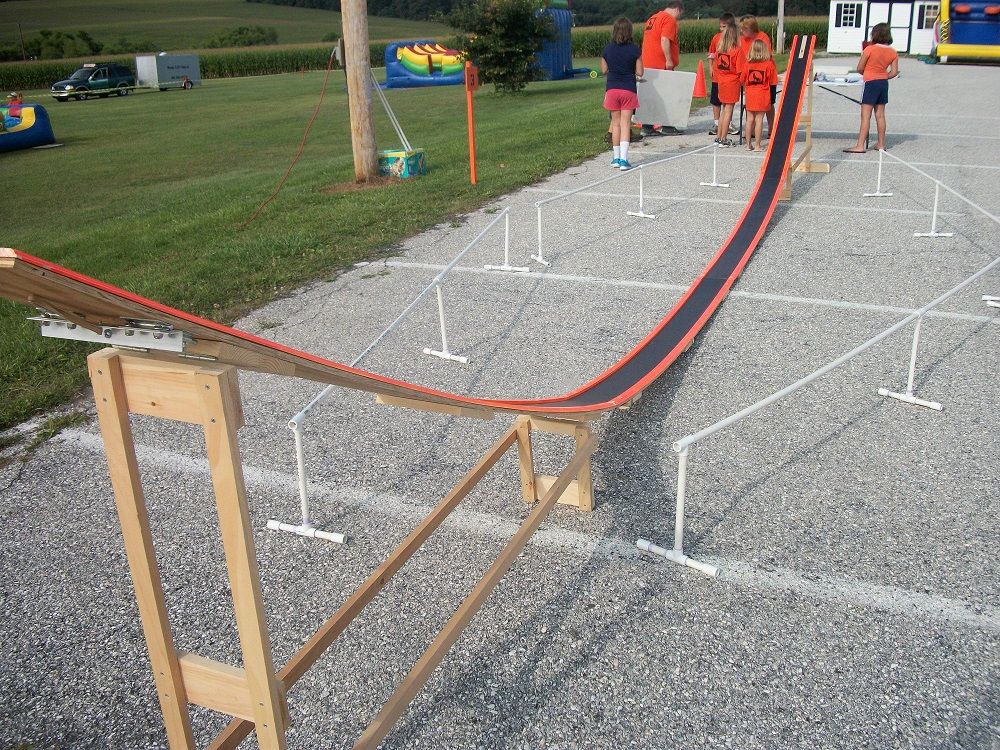 As for recruiting, we printed out 25 brochures on our pack to give to perspective recruits and only 4 were left at the end of the event! A lot of parents stopped by our table to inquire about the track and how it all worked. They were very fasinated by the concept and the race was definitely an attention getter. My Pack had a great time and we definitely look forward to doing this again next year.
-Nitro Dan