I started using the Pro Body Jigs at my workshops a few years ago. Our first year we tried using a Pin Vise (as recommended) to drill the holes in the blocks using the jig. Although this is the best method for the least wear and tear on the jigs, we found that the proceedure was to slow and way to difficult for the kids to perform the proceedure (had to be taken over by adults). After the first year, we opted to use a small hand held power drill (that could be used by the kids) with the jig, to quickly get their holes drilled in the blocks. The draw back here is that the power drilling eventually ruins the jig as the jig is only made of aluminium. If we were lucky, we could get two seasons from a jig before it was totally useless. Each year we started retiring one jig and purchasing another one, chalking it up to "the price of doing business". This year we came to the realization that we had invested about $200 in jigs, which was equivalent to buying a decent drill press and "The Block" (and saved us more money in the long run, as "The Block" doesn't wear out). We were getting ready to make this investment, when one of our new Tiger parents who worked with contracting machine shops said "I think we can fix these jigs". I gave him one of the old ruined jigs to work with and two weeks later he handed me back this: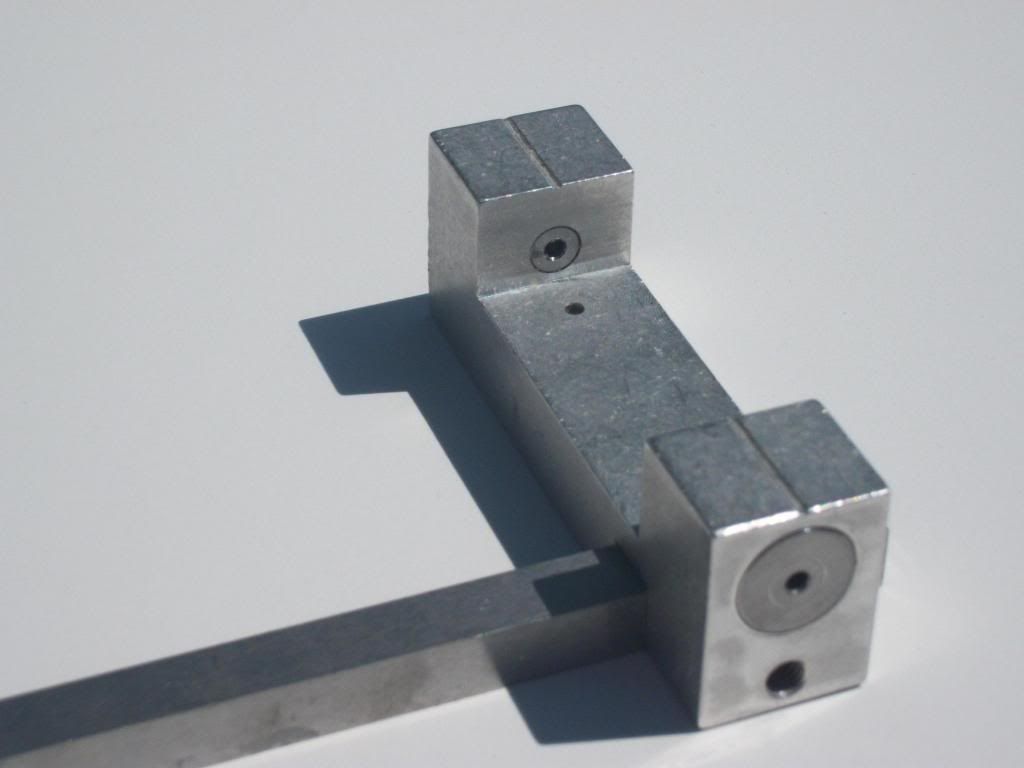 Basically he re-drilled out the bad area and filled it with a tooled steel plug that had a #44 hole in it. The tooled steel is harder than the #44 steel drill bits we use, so there is no more wear and tear on the jig. After seeing this, I gave him the rest of our jigs which he upgraded for us as well:
I'm not sure what a company would charge to fix a jig in this manner, but if you have an old jig that has been ruined, this might be an option to look into. I have email address of the person who did the work. PM me if you are interested in making contact with them and I'll pass it on to you.
-Nitro Dan