DerbyStick from NewBold Products
We have started shipping a new low-cost and ultra compact timer called
DerbyStick
. This timer is about the same size as a standard USB "thumb" drive or memory stick and is powered by the USB port on your computer.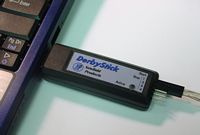 We have taken the same hardware design used in our Turbo and Turbo Lite products and applied the lastest in manufacturing processes to dramatically reduce the size and cost. To support this design we have invested in our own in-house surface mount assembly equipment required to build using the extremely small, fine-pitch components of this type design.
The unit is compatible with GrandPrix Race Manager, DerbyMaster, and Racetender software and ships with a CD with all documentation, USB drivers, and the Hyperterminal application (for those not using race software).
We have noticed over the years that when we go to races where race software and projectors are used, the audience watches the projected results much more than the over-track display. So why spend so much for a Turbo system? The finish order and times going to the PC is the most important part of the system!
Pricing:
1 Lane $79
2 Lane $99
3 Lane $119
4 Lane $139
Packages:
4 Lane with your choice of Race Software $189
http://www.pinewood-derby-timer.com/cat ... 134140.htm
3 Lane with your choice of Race Software $169
http://www.pinewood-derby-timer.com/cat ... 134146.htm
Ebay Special
(not offered directly through NewBold Products)
1 Lane Timer and Pinewood Physics DVD $89
http://www.ebay.com/itm/250978397168?ss ... 1555.l2649